Lowe's to hire more than 53,000 Seasonal Employees for Spring
Every year we welcome back new and old friends who join us for our favorite season: Spring! Gardeners, empty nesters, students, freelance interior designers, veterans, stockers, and those who love to help join together for 3 months for something truly special.
This year we enter Spring Hire as a recipient of the Freedom Award, the highest government honor given to employers like us who support service members (home and abroad) and the EPA's 2017 award for sustainability. So, whether your passion is caring for this country, caring for the environment or just caring for people, this is the place for you.
NATIONAL SPRING HIRING DAY
Lowe's hired over 20,000 candidates on February 21st during the largest National Hiring Day in company history! If you missed it, there's still time to apply. Click here to learn more.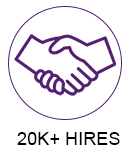 "Lowe's is a company that you can truly have a career with. If you come with an initiative to learn and grow you can go anywhere."

Shannon, Assistant Store Manager

"I am a proud Lowe's employee. Lowe's afforded me the opportunity to complete college and continue to reach my dreams."

Jazzmine, Front End CSA

"The life lesson that anyone can gain from my Lowe's life is that if you put in the work and you are driven, you can have any position you set your sights on."

Jacob, Support Manager Front End
401(k)

Tuition
Reimbursement

Discounted Stock
Purchase Plan

Paid Time Off for
Volunteering
*Benefits may vary by role and location
5 REASONS TO WORK AT LOWE'S THIS SPRING
Growth:

Nearly 200 of our current Store Managers once started as seasonal hires. We promote good team members all the time, and a quick summer paycheck could turn into a lucrative yearly salary.

Friends:

The Spring Hire community comes back every year, like an alumni reunion. It's an inclusive environment for anyone looking to get out of the house, make new friends, be healthier, feel fulfilled for helping others, work on their creativity with design and ideas, and not feel alone!

Your Town:

Have you ever worked at a company that cares as much as you do about your community and your town? Let us show you what that feels like. Each Lowe's has special local initiatives for volunteering and charity, and you are working to make all those homes and gardens (and resale values) go up! Want Lowe's to give back to something specific in your town? We are open to ideas as well.

Schedules In Advance:

See your schedule more than two weeks in advance and have the ability to swap shifts. Want to schedule more hours or earn more cash? Speak up!

Discounts:

Anything in the store or online will be discounted 10% for any Spring Hire employee. And managers often surprise employees with lunch and snacks!
290K

290K employees

40%

Nearly 40% transition to part or fulltime

87,000

87,000 total Volunteer Hours for 2017

100%

100% volunteer participation in over 1,850 stores

53K

Hiring more than 53K seasonal employees for Spring
America's Most Loved Brands Spring 2017 by Morning Consult

Smartway Excellence Award 2015

Military Friendly Employer

#40 on Fortune's 500 List

Forbes #9 Most Engaged Companies

Freedom Award

Forbes 2017 Global Top Regarded Companies 2000
Career Area
Corporate

Retail

Distribution