Seasonal to Store Manager: Reflecting on a Decade at Lowe's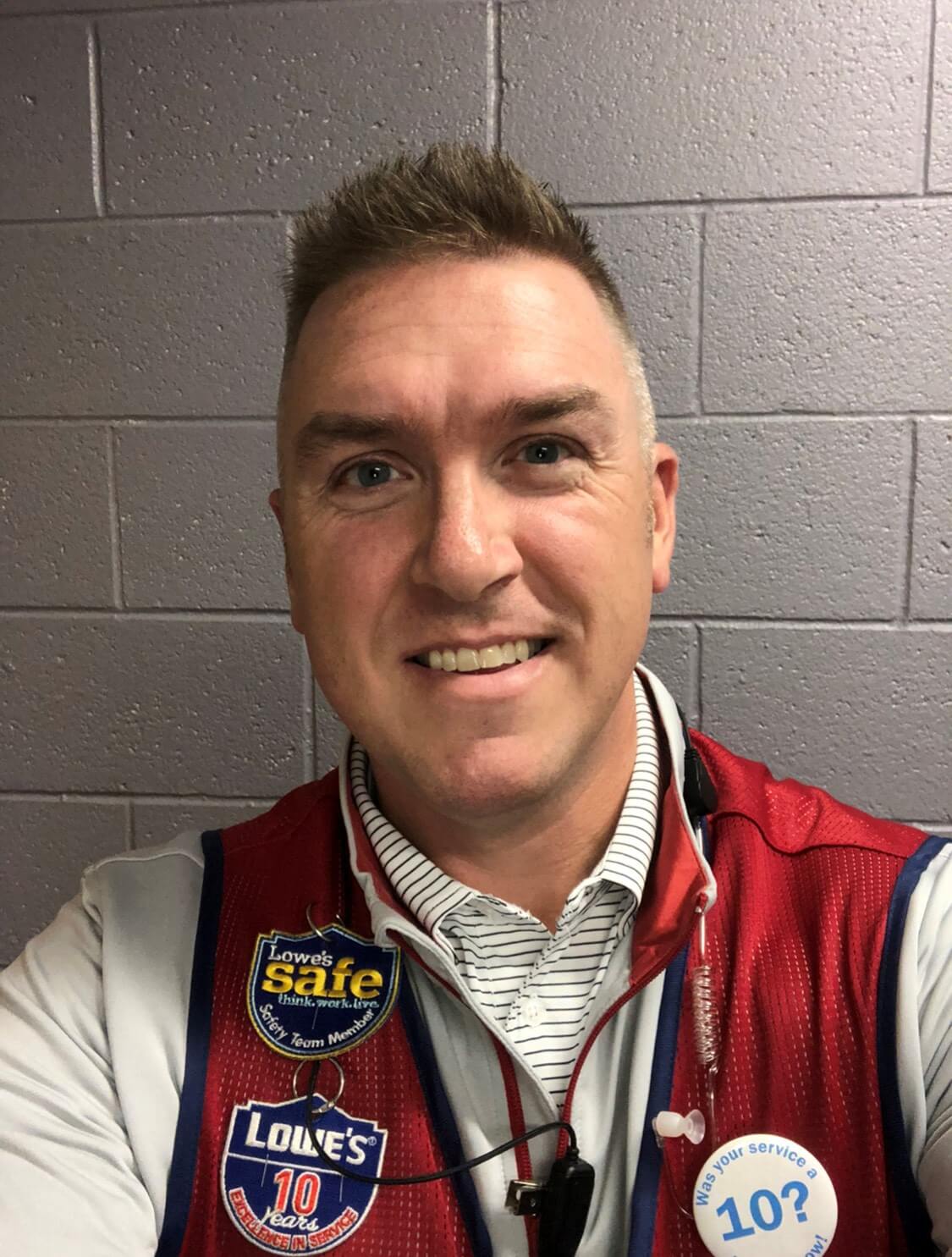 As the chapter closes on another year, and with it a decade, store manager Matt Briley has a lot to reflect upon. When the 2010s were just getting started, so was his career at Lowe's. Matt was a real estate agent when the housing crisis of the late 2000s hit, and he joined the team as a Seasonal Loader in Spring 2009 to supplement his income.
"At the time, I didn't know 100% that I would stay with Lowe's," Matt said. "But I quickly learned that I felt very passionate about helping people with their homes."
Little did he know that his seasonal experience would quickly flourish into a decade-long career.
As a seasonal loader, his initial area of focus was the Lawn and Garden Center – the heart of Lowe's spring operations. Matt said his new workplace offered a welcome change in scenery from his previous work.
"It was a nice change for me from real estate, which can be lethargic sometimes," Matt said. "Getting out from behind a desk, coming here, and working really hard was truly enjoyable."
Between stocking the shelves in the department, keeping the aisles clear of hazards for customers, and promoting sales and products within Home & Garden, Matt was able to apply the customer service-focused mindset of real estate to his work as a Lowe's associate. It wasn't long before store leadership noticed his tenacity.
Matt expected his time with Lowe's to end alongside the spring rush. However, a surprise recommendation changed the trajectory of his career. His Store Manager approached him about applying to an open permanent position at the Pro Services sales desk, aiding contractors and home improvement professionals with their high-volume purchases.
Matt said that conversation was incredibly validating for the effort he put into his job in the Lawn and Garden center.
"He thought I would be perfect for the job," Matt said of his Store Manager at the time, "I applied, Interviewed, and the rest is history."
Upon joining the Pro Services desk, Matt immediately started identifying opportunities to improve processes in his new workplace. His main aim was to revolutionize the department by implementing more modern processes.
"I've always tried to tackle any kind of problem in anything I took over," Matt said, "There's always something to improve upon."
As a newcomer to his department, he noticed the sales goals his teammates were reaching, and felt inspired to prove his worth to his colleagues. His fellow associates regularly hit aspirational sales goals every month and Matt was committed to reaching their level. The Pro Services Supervisor role was his next goal and thankfully, his revolutionary eye would take him to the top.
Not too long after joining the Pro Services desk, Matt was awarded the first of what would be many promotions. Over the last 10 years, he's bounced around various departments in the store: Garden Center Supervisor, then Manager, Lumber & Building Materials Department Manager, Receiving Department Manager, Lawn and Garden Assistant Store Manager, Lumber & Building Materials Department Manager, Admin & Operations Store Manager. He reached Store Manager in January 2019.
"Whatever you put into Lowe's, Lowe's will put into you," Matt said of his career path. "If you work hard, you can get up through the ranks."
Matt's story is certainly impressive, but it's not unique. Every job at Lowe's offers similar opportunities for growth. Thousands of associates are hired each year and offered permanent positions at the end of the spring. Lowe's rewards associates across its thousands of stores for dedication, focus on customers, and courage with promotions and other forms of recognition.
Matt said the opportunity for growth is one of his favorite parts of the job.
"Everyone loves a little 'Hey, job well done' and a pat on the back," he said. "I want to make sure that I give it back and give credit where credit is due."
What started as a way to keep his head above water during a crisis turned out to be the building block for a fruitful, rewarding career. This February will mark eleven years since Matt Briley became a Lowe's associate, but he feels just as energized as he did on day one.
"I bleed blue," Matt said. "This is what you can do if you apply yourself."
Take it from Matt – spring hiring at Lowe's can change your life for years to come.
To learn more about opportunities at Lowe's, click here.