Lowe's Recognized as 2016 Secretary of Defense Employer Support Freedom Award Recipient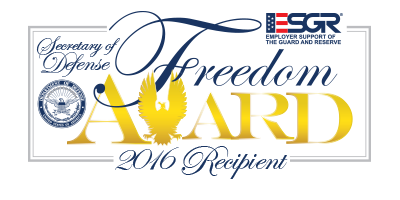 Lowe's is proud to announce that we have been chosen as a recipient of the 2016 Freedom Award, the highest recognition by the U.S government to employers. This prestigious award recognized 15 recipients this year, including Lowe's, for their support of National Guard and Reserve employees in the workplace. Nominations come from Guard or Reserve members who are employed by the organization they are nominating, or from family members of the employee.
"Without the unfaltering support of employers like them, the men and women of the National Guard and Reserve would not be able to fulfill their vital roles in our National Security Strategy. It is a great honor for me to recognize these employers, and I congratulate them on their receipt of the Employer Support Freedom Award."- Defense Secretary Ash Carter
It is an honor to have been nominated by our own military employees. Lowe's has always had a strong military connection, starting with our company's founder, WWII veteran Carl Burchan. It was his military skills and leadership that helped Lowe's grow from a small hardware store into the success that it is today. As an organization that deeply respects our veterans and reservists, we are committed to offering opportunities that benefit our military employees, including career paths, military job fairs, recruiting events and military discounts.
With more than 14,000 military-affiliated employees, Lowe's isn't slowing down. Join our growing team today!